PRAGUE BIENNALE 5 / THE PORTRAIT OF POWER
Prague Biennale: Paint's not dead
Two sections at the recently opened Prague Biennale 5 show some of the vital paths being taken in contemporary European painting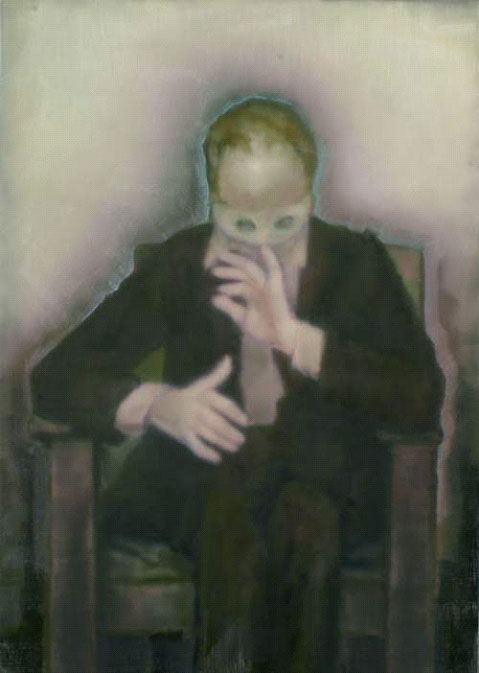 masked figure, oil on canvas, 70x50cm. 2011

"Faced with an onslaught on one side from our high-tech culture of digital and video images, and on the other from the art world preeminence of conceptual art, the irrelevance of painting has been loudly proclaimed at various times over recent decades. In spite of everything a taste for viewing pigment on canvas remains intact, with painting playing a prominent role at the current Prague Biennale.
And while much of the painting on display at the biennale is too uneven to dispel any dire prognoses that the art form may face, there are two strong shows that provide a signpost to where painting stands in the 21st century, and where it might be headed.
Portraits of Power curated by Jane Neal showcases five painters related to Hungary either by ethnicity or who live and work there. Entering the exhibition space after having passed through a large section of the biennale devoted to the often colorful, extravagant and ironically exotic art of India, the Hungarian painting provides a distinctly Central European atmosphere, displaying both continuity and innovation, as well as the tug-of-war that often takes place between them.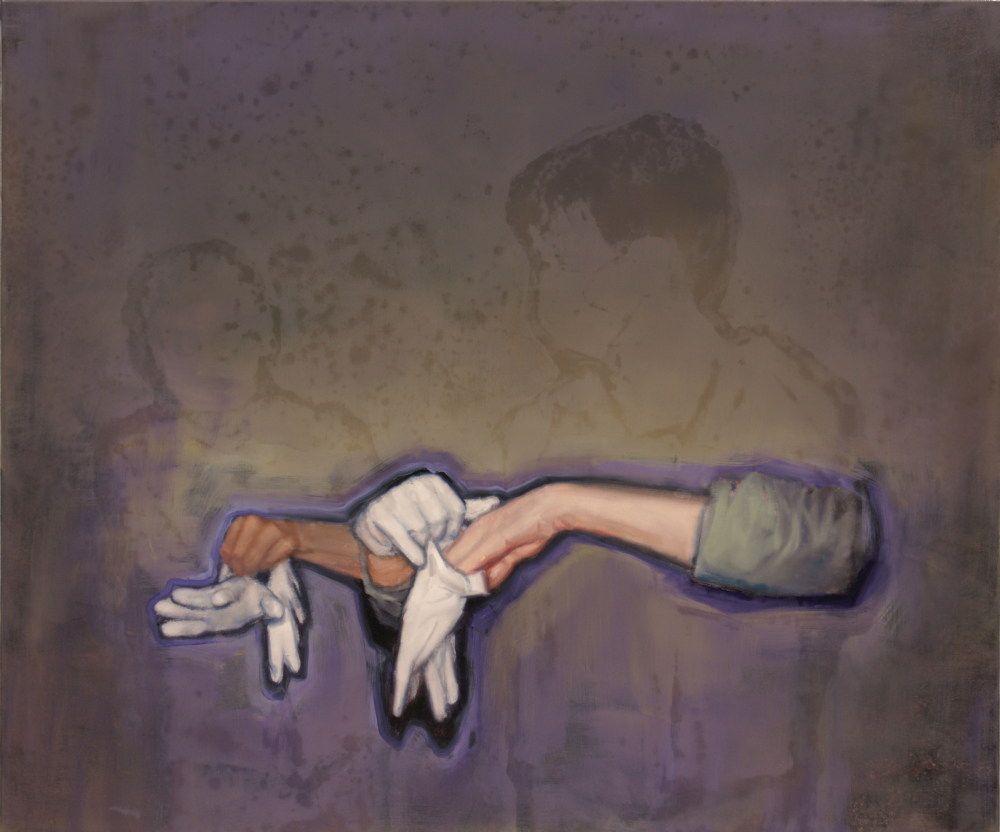 attila szucs, pulling gloves o,c. 100x120cm. 2011
The haunting, ghostly figures of Attila Szűcs evoke less the idea of power proclaimed by the exhibition title than that of memory. Szűcs told Czech Position that his process of painting resembles the way memory works, often going back over incidents and revising them. The painter admits that he loves the act of painting itself ,but starts each work hoping to finish in a relatively short time, as much to preserve the freshness and vitality of his initial idea.
"It almost never happens, unfortunately. On the other hand, I'm quite stubborn. So if I'm not satisfied with my work, I'll leave it aside for a time — for two, three or four weeks, say — and then start again. And sometimes again and again," Szűcs said.
This way of working plays a major role in the paintings themselves, as Szűcs might end up painting over most of the initial elements in the work so that there might only be faint traces of them still visible. In Repainted Figure with Wreck this aspect is actually brought to the fore, as a phantom-like man holding a mask stands in front of the virtually abstract wreck of the title.
For Szűcs, the layers of a painting are one of the stories it tells. Another work in the Biennale that displays this trait is Pulling Gloves, in which a painting of two seemingly disembodied sets of hands removing white gloves further reveals the ghostly outlines of the human figures they are presumably a part of. Szűcs insists that the appearance of the figures was unintentional.
"I was really surprised by what happened. It is like a faint trace of a memory, and I think it's very important, maybe more important than what's going on in the main motifs. And you can't distinguish between the importance of the figurative and non-figurative aspects of the work."
Szűcs sees the tension between figurative and non-figurative work as a vital line that contemporary painters need to follow. "If you are just a simple figurative painter, you will be a simple illustrator," he said."
Michael Stein | 26.05.2011
Prague Biennale 5 / Prague Biennale Photo 2
Microna
Československého exílu 4
Prague 4–Modřany
Until Sept. 11, 2011
Daily 11 a.m. to 7 p.m.
www.praguebiennale.org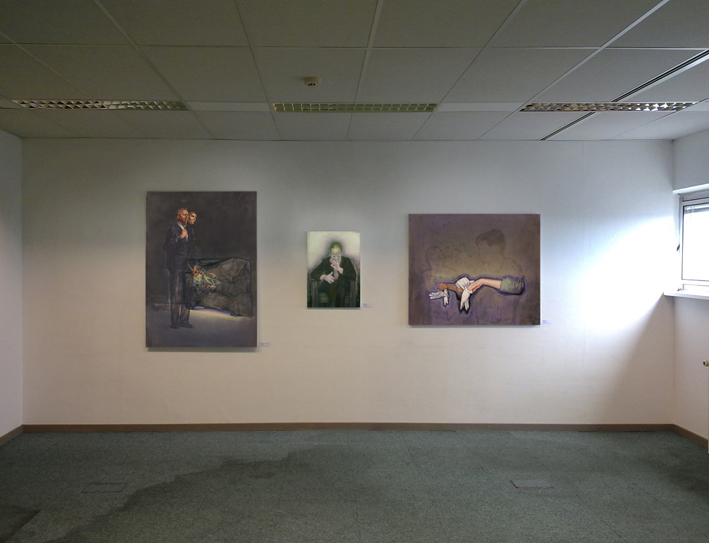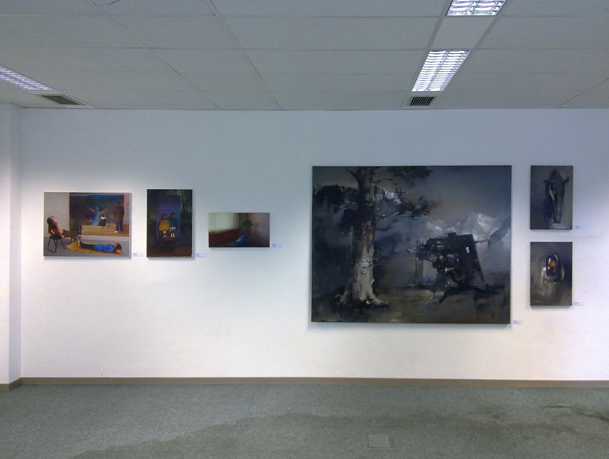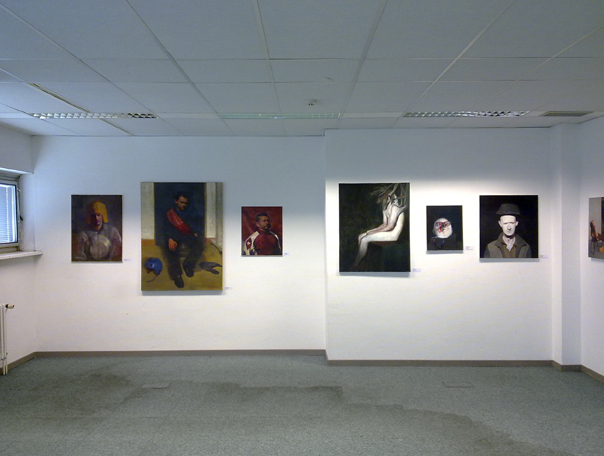 Jane Neal
Catalogue text in "Portrait of Power" Prague Biennale 5.
Attila Szucs's works are concerned with power struggles. This is manifested in the relationships he depicts between the individual and society, in the exploration of tensions between the conscious and subconscious mind, and in his focus on the manipulation of relationships; who is the victim and who the victor? Sometimes Szucs uses an object as a metaphor for the outcome of these relationships, but more often his work is concerned with the tension between what the individual can see and what they imagine. In the case of a masked figure the subject is a patient, so caught up in their own world that it has become more real than the world around them. Experiments in science and in psychology fascinate Szucs and have been the subject of many of his works. Often his subjects are surrounded by a strange aura, perhaps suggestive of kinetic energy or of tensions and elements that might normally remain unseen but can nevertheless be felt, such as the force of human emotions or of chemical and biological reactions. Fields of energy and of emotion find physical expression in Szucs's work; a task that is not easy to convincingly portray. Yet because of the consistency of his style and palette and also because of his dedication to his subject matter, Szucs's 'worlds' are highly plausible, even engaging: in no small part due to the artist's empathy for human nature and comprehension of the power of what it is possible to feel or believe, even if it is not visible.
Jane Neal
2011 05 29